News
Gap between White House and Senate grows as McConnell again rejects big fiscal stimulus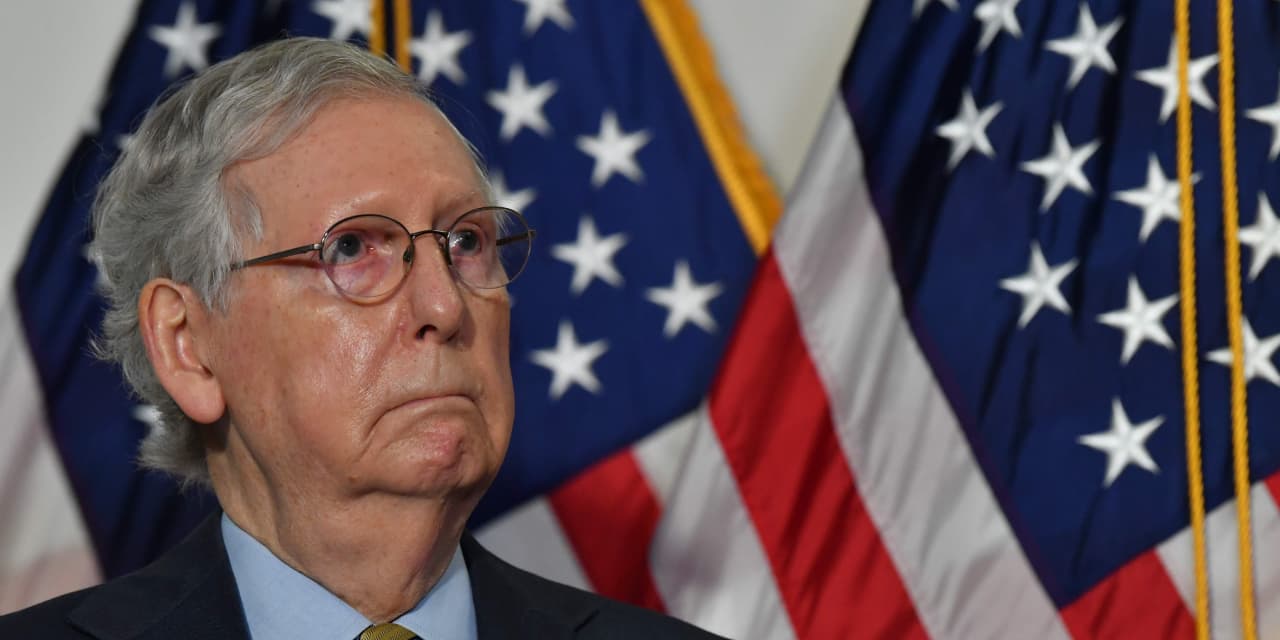 Senate Majority Leader Mitch McConnell reiterated Thursday he won't put a large fiscal stimulus package on the Senate floor, leaving a wide and public gap between between him and President Donald Trump on the issue.
Trump said Thursday in a phone interview on Fox Business Network that he had authorized Treasury Secretary Steven Mnuchin to go above the $1.8 trillion offer the White House had previously made. In theory, that could help close the gap with House Democrats' $2.2 trillion proposal.
Read more: Trump says he's told Mnuchin to offer more than $1.8 trillion for stimulus
Asked if there could be a compromise between the two numbers, McConnell said, "I don't think so. That's where the administration is willing to go."
"My members think what we laid out — half a trillion dollars, highly targeted — is the best way to go," McConnell said, noting he intends to put a package of that size up for consideration in the Senate next week.
McConnell's comments, coming at a campaign stop in Kentucky, again threw cold water on stimulus hopes as the election nears. With chances for a deal by Nov. 3 waning, the next windows for possibly passing a substantial follow-on to the March CARES Act would be after the election and before government funding runs out Dec. 11 and in early 2021 with a new Congress and possibly new administration in the White House.
The comments may also may draw McConnell a conversation with Trump. After Mnuchin and House Speaker Nancy Pelosi spoke by phone today for almost two hours, a spokesman for Pelosi said she raised McConnell's comments with Mnuchin.
"The secretary indicated that the president would weigh in with Leader McConnell should an agreement be reached," deputy chief of staff Drew Hammill tweeted.
Hammill also said that Pelosi and Mnuchin will again be "exchanging language" on areas that remain in dispute.
Earlier in the day, Mnuchin appeared to give the talks a boost when he said the Trump administration will largely accept Democrats' proposed language on coronavirus testing, potentially removing one big obstacle for a comprehensive deal.
Speaking during a Thursday morning interview on CNBC's "Squawk Box," Mnuchin said, "when I speak to [House Speaker Nancy] Pelosi today, I'm going to tell her we're not going to let the testing issue stand in the way, that we'll fundamentally agree with their testing language, subject to some minor issues. This issue is being overblown."
Pelosi has repeatedly said any deal should have money for increased COVID-19 testing and that the provisions of the testing language were in dispute.
In an interview on MSNBC late Wednesday, Pelosi also said Republican opposition to a Democratic demand to roll back a corporate tax provision on operating losses and a Republican insistence on expanded coronavirus liability protections remained as stumbling blocks.
"We cannot accept that," Pelosi said of the liability language. 
Source link